id
4772
<- Previous Id Next Id ->
Date Entered
Thursday 30th of August 2007 09:50:54 AM
Site Title
Transcargo Express
Site URL
http://www.trans-cargo-exp.tk Check CURRENT Whois
IP Address
89.255.3.140
WHOIS
Information obtained Manually from http://my.dot.tk/cgi-bin/whois.taloha?flddomainname=trans-cargo-exp


TRANS-CARGO-EXP.TK

Your selected domain name is a FREE Dot TK domain name. 
That means that, according to the terms and conditions of 
FREE Dot TK domain names, the registrant is:

Taloha, Inc. / Dot TK
584 Castro Street #260
San Francisco
USA

Due to restrictions in Dot TK's Privacy Statement personal 
information about the user of the domain name cannot be released.


ABUSE OF A DOMAIN NAME

If you want to report abuse of this domain name, 
please send a detailed email with your complaint to 
abuse@dot.tk. In most cases Dot TK responds to 
abuse complaints within one business day.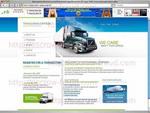 <- Previous Id
Next Id ->