id
3135
<- Previous Id Next Id ->
Date Entered
Saturday 10th of February 2007 01:38:25 PM
Site Title
Best Shipping Service and Escrow Worldwide
Site URL
http://bssew.com.es Check CURRENT Whois
IP Address
WHOIS

Request: com.es
whois server for *.es is whois.ripe.net ...
connected to whois.ripe.net [193.0.0.135:43] ... 
- This is the RIPE Whois query server #2.
- The objects are in RPSL format.
-
- Note: the default output of the RIPE Whois server
- is changed. Your tools may need to be adjusted. See
- http://www.ripe.net/db/news/abuse-proposal-20050331.html
- for more details.
-
- Rights restricted by copyright.
- See http://www.ripe.net/db/copyright.html

-ERROR:101: no entries found
-
- No entries found in the selected source(s).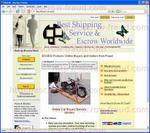 <- Previous Id
Next Id ->