id
13801
<- Previous Id Next Id ->
Date Entered
Wednesday 30th of December 2015 10:23:35 AM
Site Title
Royaldel International
Site URL
http://royaldel.eu Check CURRENT Whois
IP Address
62.149.128.74
WHOIS

[Querying whois.eu]
[whois.eu]
- The WHOIS service offered by EURid and the access to the records
- in the EURid WHOIS database are provided for information purposes
- only. It allows persons to check whether a specific domain name
- is still available or not and to obtain information related to
- the registration records of existing domain names.
-
- EURid cannot, under any circumstances, be held liable in case the
- stored information would prove to be wrong, incomplete or not
- accurate in any sense.
-
- By submitting a query you agree not to use the information made
- available to:
-
- - allow, enable or otherwise support the transmission of unsolicited,
-   commercial advertising or other solicitations whether via email or
-   otherwise;
- - target advertising in any possible way;
-
- - to cause nuisance in any possible way to the registrants by sending
-   (whether by automated, electronic processes capable of enabling
-   high volumes or other possible means) messages to them.
-
- Without prejudice to the above, it is explicitly forbidden to extract,
- copy and/or use or re-utilise in any form and by any means
- (electronically or not) the whole or a quantitatively or qualitatively
- substantial part of the contents of the WHOIS database without prior
- and explicit permission by EURid, nor in any attempt hereof, to apply
- automated, electronic processes to EURid (or its systems).
-
- You agree that any reproduction and/or transmission of data for
- commercial purposes will always be considered as the extraction of a
- substantial part of the content of the WHOIS database.
-
- By submitting the query you agree to abide by this policy and accept
- that EURid can take measures to limit the use of its WHOIS services
- in order to protect the privacy of its registrants or the integrity
- of the database.
-
- The EURid WHOIS service on port 43 (textual whois) never
- discloses any information concerning the registrant.
- Registrant and onsite contact information can be obtained through use of the
- webbased whois service available from the EURid website www.eurid.eu
-
- WHOIS royaldel.eu
Domain: royaldel.eu

Registrant:
        NOT DISCLOSED!
        Visit www.eurid.eu for webbased whois.

Technical:
        Name: Aruba Technical Department
        Organisation: Aruba S.p.A.
        Language: it
        Phone: +39.05750505
        Fax: +39.0575862000
        Email: technical@staff.aruba.it

Registrar:
        Name: Aruba S.p.A.
        Website: www.aruba.it

Name servers:
        dns4.arubadns.cz
        dns.technorail.com
        dns2.technorail.com
        dns3.arubadns.net

Please visit www.eurid.eu for more info.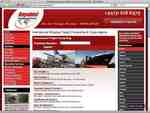 <- Previous Id
Next Id ->